In just three years, the Rev Sally Smith has presided over this total transformation of St Mark's from a middle-class church to something resembling a refugee processing centre.
It is far from an isolated case. In fact, Smith's story is a microcosm of what is happening across churches in Europe where a growing number of Muslim refugees are converting to Christianity.
Some members of the local congregation have been receptive. But many have left, saying they feel alienated by the hundreds of new-look Christians, uncomfortable with the multicultural flags and incredulous at what they see as people taking advantage of Smith.
In some cases, she has housed asylum seekers, fed them, clothed them, bought new shoes for their children and looked after their medical needs. That kindness has led many to convert to Christianity – on average three to four a week. Some do it in secret, others out of a debt of gratitude; there are those seeking spiritual relief after experiencing atrocities.
"My biggest challenge has been the attitude of some of the people within the church," says Smith. "I have had a lot of opposition. Criticism, negative attitudes and trying to undermine the work that we are doing – that's from the white British congregation.
"I have lost lots of congregation members because of what has happened at the church. They don't want the hassle and they don't want the church being messed up. They see the church as having a very definite role and opening the doors to refugees isn't one of them."
She adds: "They expected a vicar's role to be looking after the people inside the church and one of the insults often levelled at me is: 'She cares more about the people outside the church than those inside.' Well, this is what I am meant to be doing and you're meant to be doing it with me. We should be doing this together."
She is defiant, determined, but not naive. Smith – known as Mother Sally by the refugees – concedes that some do convert solely because they believe it will help with their asylum application, but she says these are few and far between. Others claim they have had the doors closed on them by mosques, who have turned them away in their hour of need, leaving them starving and homeless.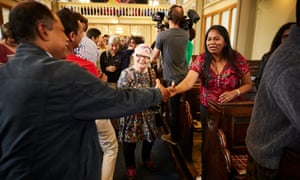 At St Mark's they receive a warm welcome – the building is packed to the rafters with donations of everything required to set up a new home and food parcels are handed out twice a week. They are given bus fares if needed and Smith even takes them into her own home if they are homeless. Smith says: "It is about being part of a kingdom where there are no border agency officials, where there are no passports necessary, where there are no immigration detention centres. One worldwide family where there are no dividing barriers."
https://www.theguardian.com/world/2016/jul/18/this-is-what-im-meant-to-be-doing-the-vicar-welcoming-muslims-to-church